Today is my stop on the blog tour for Creature by author Hunter Shea, please check out the other stops on the tour as we all offer different content.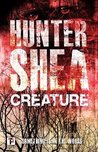 Creature
by
Hunter Shea
My rating:
4 of 5 stars
Time taken to read - in and out over 2 days
Pages - 256
Publisher - Flame Tree Press
Source - ARC
Blurb from Goodreads
The monsters live inside of Kate Woodson. Chronic pain and a host of autoimmune diseases have robbed her of a normal, happy life. Her husband Andrew's surprise of their dream Maine lake cottage for the summer is the gift of a lifetime. It's beautiful, remote, idyllic, a place to heal. But they are not alone. Something is in the woods, screeching in the darkness, banging on the house, leaving animals for dead. Just like her body, Kate's cottage becomes her prison. She and Andrew must fight to survive the creature that lurks in the dead of night.
My Review
Kate Woodson is struggling, she has health conditions that cause her unimaginable pain and impact on her day to day life, relationships, sleep, mood, you name it it impacts it all. Andrew, her husband, is hard working but sorts a getaway for them both inbetween treatments. The perfect retreat, she can recharge her batteries, recover and just the three of them, him, her and their dog Buttons.
The first part of the book deals in depth with Kate's struggles and really gives insight into how difficult life can be living with these chronic conditions. When you read the afterword it packs an additional punch, adding weight to what you have already read, I think anyone with these or similar health conditions will readily identify. Then we start to have an atmospheric buildup of events that prickle the hairs on the back of your neck before descending into chaos and horror. The later part of the book is spooky, creepy, freaky, brutal and gets the old heart racing.
I think before you pick this book up you need to be aware that it is almost split in two, the first half being very much about the wife's condition. It is absolutely required, it lets us understand so much about them as a couple, Kate herself as a character and everything that follows. I picked this up thinking it was going to be a horror right off the bat, it isn't but for me it really worked. I do enjoy a book that goes into health conditions anyway so it ticked boxes for me anyway. Then it flows into something else, creepy atmospheric scenes that if you have watched as many horrors as I have you get spooked by envisioning the scene vividly. Abandoned in the middle of nowhere, limited or no mobile service and you hear a noise, ooft, hairs standing up already on my arms. I love stuff like that, it isn't immediately in your face, the blatant horror comes but it has a build up. It doesn't always work for me, in this book it did. Please read the afterword and the my copy had a Q&A which gives a great insight into what the author experienced and went through bringing this book into print. This was my first dance with this author, it won't be my last, 4.5 for me this time, I think it could be a marmite book for some but if you go into it aware of the pace I think you will love it.
View all my reviews