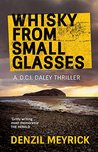 Whisky from Small Glasses
by
Denzil Meyrick
My rating:
4 of 5 stars
Time taken to read - < 1 day
Pages - 368
Publisher - Polygon
Source - Waterstones
Blurb from Goodreads
When the body of a young woman is washed up on an idyllic beach on the west coast of Scotland, D.C.I. Jim Daley is despatched from Glasgow to lead the investigation. Far from home, and his troubled marriage, it seems that Daley's biggest obstacle will be managing the difficult local police chief; but when the prime suspect is gruesomely murdered, the inquiry begins to stall. As the body count rises, Daley uncovers a network of secrets and corruption in the close-knit community of Kinloch, thrusting him and his loved ones into the centre of a case more deadly than he had ever imagined. The first novel in the D.C.I. Daley Thriller series, Whisky from Small Glasses is a truly compelling crime novel, shot through with dark humour and menace.
My Review
When the body of a young woman is discovered in the small town of Kinloch, DCI Daley is dispatched to investigate. Whilst Daley tries to deal with police politics, large egos, his personal life and a killer at large things are heating up.
So, we have a murder, team dynamics those established with Daley and those in Kinloch who are adverse to city cops stepping on toes. We follow the investigation, the boundaries breached and set by Daley, grieving families and breaking through small town ranks.
This isn't a gore fest crime, it is a lot on police procedural with Scottish banter, swearing, secrets, good old fashioned police work and family dramas thrown in for fabulous effect. The wife I didn't like to start with, Daley I really took to quickly as with members of his team. He is a good cop who just wants to do his job and be happy. The locals were a mixed bag, predictions, helpfulness, standoffish, wanting to make sure Daley is fed, it is a wee town (barring the murder) you would want to go visit.
For me a fantastic opening to the series, yes there is a murder and investigation but it is a strong builder for who the characters are. I look forward to more of Daley and his team, 4/5 for me this time. I have the whole series on my tbrm so I am looking forward to catching up with what is in store for the team next.
View all my reviews