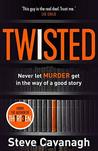 Twisted
by
Steve Cavanagh
My rating:
4 of 5 stars
Time taken to read - 1 day
Pages - 320
Publisher - Orion
Source - Netgalley (Review Copy)
Blurb from Goodreads
BEFORE YOU READ THIS BOOK
I WANT YOU TO KNOW THREE THINGS:
1. The police are looking to charge me with murder.
2. No one knows who I am. Or how I did it.
3. If you think you've found me. I'm coming for you next.
After you've read this book, you'll know: the truth is far more twisted...
My Review
Sometimes you read a book and wonder why the title is chosen, sometimes you get it at the end of the book - the title is apparent pretty quickly, this book is twisted! J.T Lebeau is an author who is super popular, his books fly off the shelf and no one knows who he is. The book opens at a funeral, only four people know the authors identity and "one of them is about to eat a bullet" and then we go back four months to where it all kicks off!
Ooft what an opening to a book, well that and the whole threat from Lebeau in the authors note. It is a book that has you knocked off from the opening. Maria is married to Paul and it is disclosed pretty quickly there is an affair with Daryl. Pretty but a bit dim he makes Maria happy and Paul is so distant, cold and often working away she doesn't feel bad. When a simple action breaks open a secret held by Maria's husband everything chances, this is what Maria needs to get everything she wants. Sometimes one action can kick off a chain of events no one could have predicted, Maria has no idea what she is about to unleash and no one could forsee the consequences the need for a wee smoke could kick off.
Sheesh! you know you read a book and folk say it pulls the rug right out from under you? Well this book does it multiple times throughout. The title is apt because the book just throws/twists/shocks/ pretty much throughout. The author Lbeau wants his identity kept a secret and stops at nothing to keep it that way, nothing! Maria has a secret, her husband Paul has a secret, Daryl is Maria's secret and nothing is what is seems. It is a hard book to review because I don't do spoilers and one thing leads to another, to another, to another. It is fast paced, something is always going on, threat is looming and you just don't know what is coming.
I think it is very cleverly written, it keeps up the pace throughout the whole book - I just wanted to know what was happening and what was coming next. Sometimes you can predict where something is going and when I thought ah ha I know where this is going, no, no I didn't. Hats off to anyone who say they worked it out, any of it, as I was surprised pretty much throughout. A few times I found myself saying no waaaaaaaay - it is certainly an entertaining book and I just was just left wondering what on earth is coming next. Themes of murder, infidelity, love, lies, relationships, secrets and very much cat and mouse, 4.5/5 for me. This is only my second read by this author, it won't be my last!
View all my reviews