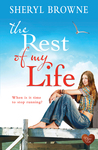 The Rest of My Life
by
Sheryl Browne
My rating:
3 of 5 stars
Time taken to read - 1 day
Pages - 246
Publisher - Choc Lit
Blurb from Goodreads
You can't run away from commitment forever …
Adam Hamilton-Shaw has more reason than most to avoid commitment. Living on a houseboat in the Severn Valley, his dream is to sail into the sunset – preferably with a woman waiting in every port. But lately, his life looks more like a road to destruction than an idyllic boat ride…
Would-be screenplay writer Sienna Meadows realises that everything about Adam spells trouble – but she can't ignore the feeling that there is more to him than just his bad reputation. Nor can she ignore the intense physical attraction that exists between them.
And it just so happens that Adam sees Sienna as the kind of woman he could commit to. But can he change his damaging behaviour – or is the road to destruction a one-way street?
My Review
Adam is a Lothario in a small town, on a path to self destruction. After a personal tragedy and relationship crisis, Adam is going about life the wrong way. Bedding wives, girlfriends and just about any woman who comes along his path, Adam is making himself a target for the wrong kind of attention. Enter Sienna, sweet, innocent, who has rented a cottage with her friend, her wee dog and is writing her screen play. When she sees the Adonis that is Adam she can't help but be drawn to him, aware of his reputation she aims to keep her distance. However as the attraction grows, Sienna can't help but ignore her head and listen to her body. With so much stacked against them, can Adam get over his past and Sienna keep her heart safe?
This is a very chick lit book, relationships, lust and attraction are big features however there are more layers and deeper emotive topics covered. Adams previous relationship has left emotional scars and the driving force for his behaviour with woman and alcohol. His friend wants to support him but we all have our limits and Adam is pushing the boundaries. Sienna is almost sickly sweet, some of her behaviour, for me, was very irritating however I believe it echos the reality of some women in positions such as she finds herself in. Adam will draw in scores of female fans who would love to rush in and save him from himself, he does have many layers rather than just the boy toy he initially presents as. For some readers, I think he will evoke fury, having no respect for some of the women (or their partners) when he beds them. Infidelity often gives rise to rage for a lot of readers so just an FYI.
The story goes along the boy meets girl style story, obstacles in the way however it goes a bit deeper and delves into issues that some readers may find a touch a nerve. We hear a lot from Adams view point which is quite refreshing as a lot of these books have the female as the main protagonist. Certainly a different read and whilst I didn't love the characters, I did have a soft spot for Sienna's father, I did enjoy the book. 3/5 for me this time, this is my first dance with this author, I would read her again. I voluntarily reviewed this book, thanks to the author for introducing me to her writing!
View all my reviews