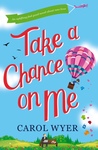 Take A Chance On Me
by
Carol E. Wyer
My rating:
4 of 5 stars
Time taken to read - 1 day
Pages - 325
Publisher - Bookouture
Blurb from Goodreads
It's time for Charlie to ditch the life that's been dragging her down in this romantic, funny, feel good read!
Since splitting from her husband, Charlie's life has been stuck in a rut. Best friendMercedes will do anything to put a smile back on Charlie's face and so draws up a bucket list of things to help Charlie recover her mojo.
Sure enough, as Charlie works her way through the list, belly dancing and bungee jumping, she makes new friends and even begins to attract some male attention.
Journalist Jake gives Charlie butterflies but he almost seems too perfect – there must be a reason why he's single. Perhaps Rob would be a better bet – yes he's short and he drinks too much - but a girl can't have everything can she?
The final challenge on Charlie's list looms large. Can Charlie complete it and prove to herself that life is for living, whatever may have happened in the past? And can Jake get through to Charlie and stop her from settling for the single life or, the wrong man?
Join Charlie as she finds her happy-ever-after in this hilarious, heartwarming read that will make you laugh, cry and live your life to the full!
This book was previously published as Three Little Birds
My Review
Charlie's life has been a bit crap, her daughter died, her relationship with her husband has crumbled and her life is in a bit of a rut. Her best friend Mercedes comes up with a great idea, creating a bucket list Charlie needs to do, it will kick up her routine, force her into new and exciting situations and take her mind off life current predicaments. During all this Charlie meets two very different men, Rob who likes a drink, is quite a flirt and certainly offers a bit of excitement and then there is Jake, a journalist who is beautiful, funny and has a knack of just turning up at the most inopportune moments. Whilst Charlie is moving on and finding a new lease for life, one aspect of her old life won't go away and some people just can't let go!
So for me this story came at the right time, I had just finished reading a really dark tale so needed something that was a bit heartwarming. Charlie is such a nice person, she helps out at the radio at the hospital, does good deeds with little expectation in return and generally sweet. Mercedes list brings challenges and helps build some confidence for Charlie whilst opening doors to some new folk in her life. We see her grow as a character, learn to appreciate her abilities and expand her social circle. The book takes a bit of a dark turn that almost seems like a different story, Charlie has someone in her past who can't let go and doesn't want to see her move on. The tale gets dark and almost becomes a thriller in respects to one angle before resuming the feel good focus. I think for some readers they may dislike that whilst others will love it, I didn't mind it really and liked it overall. This is my first time reading this author, I would certainly read her again, 4/5 for me this time.
View all my reviews