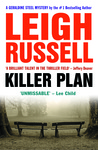 Killer Plan
by
Leigh Russell
My rating:
3 of 5 stars
Time taken to read - 3 days
Pages - 319
Publisher - No Exit Press
Blurb from Goodreads
Caroline's husband is killed, but she can't turn to the police without implicating herself in his murder. When one of her 10-year-old twins is kidnapped, the desperate mother is forced to resort to drastic measures to get him back. As time runs out, and a second body is discovered, Geraldine realises she has a secret that might just help solve the case. But the truth could destroy her career. Faced with the unenviable decision of protecting herself or the widow she barely knows, Geraldine must grapple with her conscience and do the right thing before the death count mounts any further.
My Review
Caroline Robinson is our opening character, a chance encounter with an old school friend finds her telling him of her woes at home. Mum to two twin ten year old boys and a philandering husband. When Brian reaches shows understanding, he has been there himself, and comes up with a plan to make her husband take notice of her she agrees. When he is murdered and Brian reveals exactly what he wants, Caroline finds her world turned upside down and thats just the beginning of it all. Her son is kidnapped and the police know there is more to this story than Caroline is telling. Then another body turns up, this time DI Steel knows something that could blow open the case however, revealing what she knows may ruin her career. Time is running out, a young boys life is at stake and Geraldine Steel must act before it is too late.
Firstly, at the beginning of the book before the tale starts, we have a wee glossary of acronyms which I loved. Sometimes there are so many titles and initials with the police it is hard to keep up with who is what, you can just flick to the beginning of the book and find what they are, just a wee thing I really appreciated.
This is a busy wee book, you have the murder, then a kidnap, then another body shows up and and affair with a married man. Geraldine Steel is still having issues from previous books with her birth mother and deciding if she should trace her although it is mentioned only briefly within this book. She has a lot going on in her personal life and some of the story focuses on this, there is a big investigation into Caroline's husbands murder however this tappers off and all attention is focused on the second body that is discovered. When her child is kidnapped she cannot get the police to take her seriously although she is erratic by this point.
The story goes along at a decent pace, you know from the beginning who the murder is and why he did it however the story takes a turn and keeps you interested. My biggest beef is the way the police behave, toward each other and their lack of ability to perform investigations and or listen to their colleagues when they make valid points about a case. In some aspects, not all but one or two points I had to suspend belief as I couldn't honestly see police allowing certain actions or lack of them. That said we do read about investigation blunders in the news so perhaps the author is taking the path of fiction reflecting reality. With a massive change to the police force I am hoping that in the next book, assuming there is more to come and I hope there is, that we will see the police having a massive shape up and functioning much better than they have done.
There is a lot of emotion throughout the story as well as action and drama. None of the scenes are gory so if you like crime without all the blood and guts then this is a good series for you although I would suggest going back to the beginning than starting with this one. 3/5 for me this time, thanks so much to RealReaders for providing me with a copy in exchange for an honest review.
View all my reviews