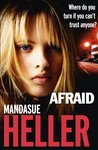 Afraid
by
Mandasue Heller
My rating:
5 of 5 stars
Time taken to read - 1 day
Publisher - Hodder & Stoughton
Pages - 344
Blurb from Goodreads
Mandasue Heller's thrilling novel is set on the gritty streets of Manchester.
When fifteen-year-old Skye's mother finally does something so shocking that it can't be hushed up, the police turn her over to the social workers - and that's when the nightmare begins.
She doesn't know if her father is alive or dead; the woman who is supposed to be helping her dumps her in a terrifying 'home' that's more like a jail. But she still has one friend to turn to: the sympathetic girl she's met in an internet chat room, the one who seems to have a home life as unhappy as Skye's. And Jade offers her a safe place to stay . . .
Alone in Manchester, nearly penniless, Skye is willing to trust Jade. Even when it isn't Jade who turns up at the rendezvous, but a grown-up man who says he's Jade's brother . . .
My Review
Set in Manchester, Skye Benson is fifteen years old living with her mum and dad, bullied at school, parents fighting and mum has some mental health issues. After a particularly horrific physical fight between her parents, Skye ends up in a children's home with more bullies. Feeling trapped, unable to find out what is going on with her parents, Skye reaches out to a friend she met on the internet, Jade. Jade can help out, she has the same issues with parents, is the same age and understands Jade completely. When Skye meets Jade it is her older brother who shows up, Skye has no reason not to trust him and gets in the car.
Oooooh this book is a doozy, it has some really dark gritty themes which can be really hard going to read, however the story pulls you in and you have to find out how it plays out. The stories jump between what is happening with Skye and then back to her father where the police, one officer in particular has a vendetta against Jeff Benson. Now his daughter is missing he has the perfect excuse to hound Jeff as his life is falling apart. Skye on the other hand is finding out that Jade's brother Tom is willing to help her anyway he can, now that the police are "after her".
What follows is a stomach turning, well executed plan to get Skye into his way of thinking and whilst the police are pre occupied with Skye's dad, Tom has all the time in the world with her. This story will have the hair on your neck standing up, makes you realize how quickly someone can ruin your life and an insight into Stockholm syndrome and the conditions required to evoke this psychological phenomenon.
The book is fast paced, harrowing, covers many themes including childing exploitation, rape, pedophilia, murder, family violence and relationships to name just a few. It is not an easy read due to the subject content however it is done well enough that you know exactly what is transpiring without focusing purely on the stomach turning details. Due to the story line there does need to be some detail on some of the sexual content and for that I would warn readers before picking up the book. I think Heller has done very well in how she has handled it and it does not deflect or detract from the actual story line.
I think this is one of those books that will stay with you for a long time after putting it down. This is a great author, I can't recommend her high enough. I was a big apprehensive picking this one up as I haven't been enjoying books so much lately, I am glad I did though. 5/5 for me this time and thanks to the publicist over at Hodder & Stoughton for giving me an advanced reading copy. This book came out yesterday so you can grab your own copy now!
View all my reviews