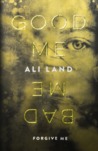 Good Me, Bad Me
by
Ali Land
My rating:
3 of 5 stars
Time taken to read - 1 day
Pages - 400
Publisher - Penguin
Blurb from Goodreads
'NEW N A M E .
NEW F A M I L Y.
S H I N Y.
NEW.
ME . '
Annie's mother is a serial killer.
The only way she can make it stop is to hand her in to the police.
But out of sight is not out of mind.
As her mother's trial looms, the secrets of her past won't let Annie sleep, even with a new foster family and name - Milly.
A fresh start. Now, surely, she can be whoever she wants to be.
But Milly's mother is a serial killer. And blood is thicker than water.
Good me, bad me.
She is, after all, her mother's daughter...
My Review
Annie changed everything when she went to the police, her mother has since been arrested for the murder of nine children. Annie is placed with a new foster family, her name is now Milly and Milly is trying to be good, Milly's mother talks to her (in her head) and the badness tries to creep up. Good Me, Bad Me is about a young girl who is struggling to come to terms with all the abuse she endured at the hands of her mother, all she has seen and all she has done. Milly wants to be a good person, she really does but she can't get her mother out of her head, her new foster sister is a spoiled evil brat and the foster parents have their own issues to deal with.
This book hints at quite a lot, we know poor Milly has been abused by her mother although not the full extent, as we read further more details emerge. Milly has been forced to participate in her mothers "games" again a lot is hinted as but the book doesn't go into depth on details which some readers will find refreshing. As a teenager and still legally a child, Milly is placed with a foster family and we see her have an internal battle trying to be a new and better person whilst having the effects of all she has endured with her mother.
Some of the book makes for very uncomfortable reading, the bullying from the foster sister is horrible, the atrocities and hate campaign launched against poor Milly is horrendous leaving the reader, well it did me, very angry and frustrated. You are rooting for Milly along the way and hoping someone catches on to what is happening to her, she seems to fall victim to so many situations yet stoically powers on. This book is being tipped as one of the biggest for 2017, whilst I enjoyed it and found it to be engaging I was frustrated at quite a few points and angered at the seniors and authorities. 3/5 for me this time, I voluntarily reviewed this for Netgalley, Good ME Bad Me is available to buy January 2017.
View all my reviews