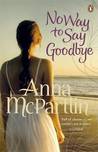 No Way to Say Goodbye
by
Anna McPartlin
My rating:
3 of 5 stars
Time taken to read - 10 days on and off
Pages - 344
Publisher - Penguin Books
Blurb from Goodreads
You only get one second chance ...
Mary Mackey has endured so much loss in her twenty-nine years that people call her 'Mary of the Sorrows'. Mary has settled for a humdrum existence, a life lived apart from the crowd. That way she hopes to avoid further grief.
Her friends - Penny, Ivan and Adam - seem more together but they are just as damaged. Penny's loneliness, Ivan's cowardice and Adam's duplicity are all signs of lives going off the tracks.
When a mysterious American moves in beside Mary, her friends are intrigued but she tries to avoid him. Little can they guess that his wounds run at least as deep as theirs, and that his arrival in town will challenge each of them to face their demons. And it will force Mary to decide if she can take a chance on living again …
My Review
Mary, Penny, Ivan & Adam are our main characters, a close knit group. Mary has had her share of hurt and them some, Penny has a problem with alcohol but no one is calling her on it, Ivan has his own problems going on and Adam is married but in love and cheating with Penny. They all have things going on in their lives when Sam, an American with his own troubled past moves into the village.
This story is set in Kenmare, Ireland. It portrays a tale of sadness, friendship, hope, love, loss, relationships and a close knit community. Mary needs to learn to trust and allow people into her life, Sam is successful in the music world but running from his dark past. The two have a mutual attraction but both refusing to acknowledge it. There is so so much going on in this story including child abuse, drink driving and child death which some readers may find hard to read. Overall it is a story of multiple friendships, small town gossip and people trying to deal with their past whilst dealing with current demons and secrets.
McPartlin has a gift of writing a tale of relationships whilst infusing some humour, serious issues and bringing characters to life that are, some endearing and others loathsome. Whilst I did enjoy this one I don't think it has a patch on some of her other writing. 3/5 for me this time, I will be reading more by this author.
View all my reviews