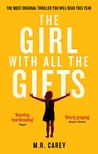 The Girl with All the Gifts
by
M.R. Carey
My rating:
3 of 5 stars
Time taken to read - 4 days
Publisher - Orbit
Pages - 460
Blurb from Goodreads
Melanie is a very special girl. Dr. Caldwell calls her "our little genius."
Every morning, Melanie waits in her cell to be collected for class. When they come for her, Sergeant Parks keeps his gun pointing at her while two of his people strap her into the wheelchair. She thinks they don't like her. She jokes that she won't bite, but they don't laugh.
Melanie loves school. She loves learning about spelling and sums and the world outside the classroom and the children's cells. She tells her favorite teacher all the things she'll do when she grows up. Melanie doesn't know why this makes Miss Justineau look sad.
My Review
We open with Melanie, what her name means and what "life" is like for her and her routine. Her cell is where she lives when she isn't in the classroom, when she goes to the classroom she is confined to a chair. The soldiers, the children she spends her class time with and the teachers. Melanie is different, she is smart and notices things, that some of her classmates go missing and never come back. Soon Melanie will find out first hand what is happening to her friends, why her favourite teacher is looking so sad & what she really is.
For the first we while I wasn't too sure where the story was going and was a bit confused. However, eventually you find out, along with Melanie why she is strapped down, why her classmates disappear and what the lessons where all about. For me the story is a cross between invasions of the body snatchers with a bit of post apocalyptic theme with cannibalism, cruelty, murder and gore.
It isn't just about Melanie's self discovery, she is ten years old by the way but very intelligent and advanced for her age. It is also about relationships, survival and acceptance. It is different from a lot of what I normally read but reminded me a lot of the old movies I loved as a kid, 3/5 for me. This is my first time reading this author and I would read more by them.
View all my reviews