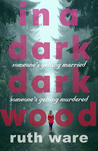 In a Dark, Dark Wood
by
Ruth Ware
My rating:
4 of 5 stars
Time taken to read - <5 hours
Pages - 352
Publisher - Vintage
Blurb from the back cover
In a dark, dark wood
Nora hasn't seen Clare for ten years. Not since Nora walked out of her old life and never looked back.
Until, out of the blue, an invitation to Clare's hen do arrives. A weekend in a remote cottage - the perfect opportunity for Nora to reconnect with her best friend, to put the past behind her.
But something goes wrong.
Very Wrong.
And as secrets and lies unravel, out in the dark, dark wood the past will finally catch up with Nora.
My Review
The story opens, she is running, there is a sense of urgency and that draws the reader in. Nora then wakes up in hospital, in agony wondering what happened and what has she done, hello chapter 2! What a great draw into a story eh, is it any surprise I read this in one sitting, I am too nosey and needed to know what went down. So Nora is our main character, chapter 2 sees us taken back to before the hen party. Nora is a relatively solitary creature, a writer living in a small flat, out of the blue she gets invited to Clare's hen party. Clare was her best friend for years, it has been over a decade since Nora, then Lee, left everyone behind. Surely this is the perfect opportunity to put the past behind her, what could possibly go wrong?
Nora doesn't like to talk about what made her leave James, her sweetheart, speculation was rife, Nora is fiercely private about it but it has been 10 years. She makes a pact with Nina, they will both go and everything will be fine. But Clare has some secrets of her own, like who she is marrying and things get awkward quickly for Nora. Clare's new best friend Flo is weird to say the least, Tom is a bit standoffish, Mel is worrying about her baby at home and Nina can't help but stir things up. The weekend soon takes a sour turn, bitchiness is at a high and just when Nora thinks things can't get any worse the weekend takes a deadly turn.
The author does a great job building up an atmosphere long before anything happens. The reader empathises with Nora, well I did, on the impending reunion and uneasy feelings seeing an old friend can conjure up. Who hasn't lost touch with people who were once a huge part of their life or invited to somewhere you feel a bit socially awkward being. A story of friendships, challenging situations and how your past can still very much be a large factor in your present. 4/5 for me this time, this was my first time reading this author, I would certainly read her again.
View all my reviews