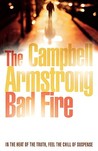 The Bad Fire. Campbell Armstrong
by
Campbell Armstrong
My rating:
3 of 5 stars
Time taken to read - 8 days
Publisher - Harper Collins
Pages - 442
Blurb from the back cover
Commit a sin and you'll go to the Bad Fire... That's what Eddie Mallon was told when he was growing up in Glasgow. Now he's about to discover that even after all these years, the fire never goes out.
Eddie was just a child when his familysplit down the middle. He went to America with his mother and later became a cop; his sister Joyce stayed in Glasgow with their father, the charming, violent, mercurial Jackie Mallon. Now Jackie has been murdered and the son he didn't know is coming home for the funeral. But while he's back in town, Eddie can't help questioning the work of the local investigators. And when he does, he finds himself spiralling into the mysteries of the past as well as the present.
My Review
My friend recommended Campbell Armstrong to me years ago and it is only recently I have got round to picking him up. The story is set in Glasgow, Jackie Mallon is a known face to the police, they know he is involved in illegal activities they just can't nail him for anything major. He is respected by those he does business with, one face wants in on the action and Jackie isn't playing. Jackie is killed and his trusty sidekick is missing, his estranged son is back in Glasgow, to bury his father and get some answers!
I loved the descriptions of the streets and places within Glasgow. Some I knew and are still in standing, others I need to Google or ask around to see if they were about or just add ins from Campbell's story telling. The location is a perfect place to write about crime, just look at some of the statistics from the last 30 years. Family and loyalty are a big part of this tale too which are also attributes strong in the city, I feel.
There is a lot going on to keep you interested in the book, murder, secrets, investigations however I have to admit, in some parts I struggled. It is not exactly how the author writes as you can follow it easily enough, more some of the phrases. For example "Murder's very rich gravy', Perlman said and focused his good eye hard on Eddie. 'Can you make it stick to the wall, son?" and random phrases like that I just didn't warm to. Then there was a few turns in the story that I just felt didn't add anything and were maybe added as an afterthought. I was left with some questions which I never like happening although the story overall was fine and you did get pretty much everything answered in the end. Therefore 3/5 for me this time, I would read this author again however I won't be rushing out to get the back catalogue just yet.
View all my reviews