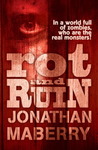 Rot & Ruin
by
Jonathan Maberry
My rating:
3 of 5 stars
Time Taken to Read - 3 days
Blurb from Goodreads
Pages - 458
Publisher - Simon & Schuster
Nearly fourteen years ago, a freak virus swept across the world turning the living into the undead. Benny Imura was only a toddler, but his last memory of his parents is tainted by the image of them becoming zombies, and he blames his older brother, Tom, for not saving them.
Now Benny is fifteen, and Tom wants them to put their difficult relationship behind them and work together in the "family business": as zombie killers. It's the last thing Benny wants to do, but he needs a job and he thinks it'll be an easy ride.
But when they head into the Rot and Ruin, an area full of wandering zombies, Benny soon realises that there's more to the job than just whacking zombies. And, as he's confronted with the truth about the world around him Benny makes the most terrifying discovery of all, that the worst monsters you can imagine might actually be human ...
My Review
Benny is fifteen years old, in a world where the living dead are ever a threat to humans, when you come of age (fifteen) you must contribute to the community in order to eat, live, survive there. Benny's brother Tom has quite a reputation, a hero, he kills zombies and is well thought of in the community. Benny knows differently, he knows Tom is a coward and he hates him, however he has to learn the business in order to earn his keep. Benny starts to realize there is more to the job and indeed his brother as he ventures out into the Rot and Ruin. As Benny starts to see the world differently, he realizes how dangerous the world around him is and the things he thought he knew aren't quite what they seemed.
I have read a Jonathan Maberry before, Patient Zero, and loved it. This is very different, although both are zombie stories. This one heavily focuses on the personal journey young Benny takes, from developing interest in the opposite sex, family grudges, secrets and making the transition from petulant teenager into a young man. There is of course zombies and danger although it has a very different feel from his other tale. Discovering the zombies may be different from what young Benny had imagined and learning that sometimes people can be worse than the zombies, Benny goes on a journey of self discovery, growth and survival.
It is a good introduction to a new zombie series, it isn't just all gore and guts as a lot of zombie books are. It isn't the best I have read but I certainly enjoyed it and will follow the series as I come upon it, 3/5 for me this time.
View all my reviews