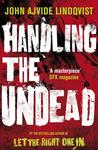 Handling the Undead
by
John Ajvide Lindqvist
My rating:
2 of 5 stars
Time taken to read - 3 days
Publisher - Quercus Fiction
Pages - 364
Blurb from Goodreads - Something very peculiar is happening in Stockholm. There's a heatwave on and people cannot turn their lights out or switch their appliances off. Then the terrible news breaks. In the city morgue, the dead are waking up...What do they want? What everybody wants: to come home.
My Review
Who can pass up a zombie book, well certainly not me and this one has been eyed up for a while. Based in Stockholm, there is a heatwave, even when trying to pull out appliances you can't turn them off and if things could get any worse or louder, the dead are coming back to life.
This is a zombie book with a difference, not all of the dead come back to life. There are weird little caterpillars involved, plus the whole heat and electric thing. There is a bout of telepathy involved, with the living and some of the dead and one of the dead can communicate, sort of. The dead want to come home, their families are traumatized and the corpses are in various states of decay.
At the start of this book I quite liked the story, it has a different take on it. The "zombies" aren't crazed flesh eating monsters, they are shells of their former selves and the relatives are trying to cope with have their wish granted, their loved ones returned, just not in the way they had quite imagined. The story focuses around three lots of characters and their experience of the undead, their families and some heart wrenching decisions, trying to cope and adapt to the situation.
However, that said the story had a few inconsistences, not all of the undead where as harmless as the others, they seem to act and react differently. The humanity part and the reactions were interesting however, for me, some of it was just flat and didn't work. You either have it written one way or the other, you can't have so many acting in one way and it all about the people trying to cope. Then switching how they, the undead, are behaving and having a ghoulish violent gorey one. That doesn't work for me, it was worth reading though and apparently it is a movie so I may check that out. I do like this author however I preferred the other tale to this one. 2/5 for me this time, I would read this author again.
View all my reviews