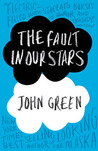 The Fault in Our Stars
by
John Green
My rating:
4 of 5 stars
Time taken to read - 2 days
Publisher - Penguin
Pages - 337
Blurb from Goodreads
Despite the tumor-shrinking medical miracle that has bought her a few years, Hazel has never been anything but terminal, her final chapter inscribed upon diagnosis. But when a gorgeous plot twist named Augustus Waters suddenly appears at Cancer Kid Support Group, Hazel's story is about to be completely rewritten.
My review
Hazel is our main character, she is seventeen and has thyroid cancer with mets and her mother decides she needs to go to a weekly Support Group to beat depression. Hazel has an almost non verbal friendship with Isaac whom she meets at group, both frustrated with the group lead and share looks and sighs with each other. Isaac's friend comes along to group one day, Augustus (Gus) Waters and Hazel can't help but notice him, he is hot and won't stop staring at her. They strike up a conversation, friendship blooms and the two quickly become inseparable. What follows is a journey between two people, brought together by friendship who go through and share so much in a limited amount of time.
I hadn't heard of this book until recently, it is now out as a movie and getting much interest and reviews although it has been around since 2012 I believe. For two young people our characters are very deep thinkers, Gus has theories and philosophies and shares them with Hazel, whom he refers to as Hazel Grace throughout. This is a beautiful story that, looks at friendship, suffering, loss, emotions, humour, attraction and death. Hazel is terminal, she is on a new drug that will buy her some time but ultimately she will die, this sees her holding back from Gus.
Hazel shares her favorite book with Gus, it ends abruptly and Hazel would love to know what would have happened to the other characters. Gus and Hazel set out to get some answers and try and track down the author whilst courting and getting to know each other. The story covers a range of emotions and I found myself moved a few times throughout. The two main characters are only seventeen and sometimes you felt they were very advanced emotionally however maybe due to what they have both been through the author done this on purpose? I would have read this in one sitting however I started it on my phone and only got it on a proper device today and I finished it that way.
I found it a really engaging read, it is a hard topic, young people dealing with cancer, young Isaac has it in his eye, he is in the book for small portions as is Hazels other friend (who doesn't have cancer), but mostly the focus is Hazel and Gus. Gus lost a leg to cancer and Hazel knows she is on borrowed time however I think the balance of the book is well done, the impact it has on the people within the circle of the person who has it. I did see how the book was going at one point but don't think this took anything away from the story to be honest. I hadn't read this author before and I would read him again. It is worth noting that this is listed as teen fiction but I would say it is more than suitable for adults and that at times you forgot the characters were meant to be teenagers. 4 out of 5 for me and I think I will need to be seeing the movie too, definitely worth a read.
View all my reviews